ATHENS & MYCONOS - 7 DAYS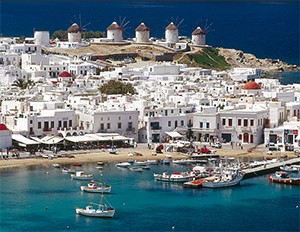 The mood is casual and free-spirited, inviting you to relax and explore at your own pace …
There's always something new to discover.
Meet and greet service
Athens city tour
2 nights in Athens/4 nights in Myconos
Dinner in Athens/dinner in Myconos
!Air Tickets Athens – Myconos - Athens
Day 1 - Athens
Arrival Athens, meet and greet at the airport and transfer to your hotel in Vouliagmeni.
Day 2 - Athens
Today your morning city tour includes the visit of the Acropolis and its museum as well as a drive along the main streets of Athens. For a perfect evening, tonight you'll have dinner in a deluxe restaurant.
Day 3 - Athens - Myconos
In the morning you'll be picked - up from your hotel to be transferred to the airport for flight to Myconos.
Soon after your arrival at the airport our local representative will transfer you to the hotel.
Day 4 - Myconos
You'll be pleasantly surprised if today you can spend a few hours in town. White cube houses, white arched chapels, brightly painted door and windows, spotless by clean vibrant flowers everywhere and who knows walking through the narrow streets you can run into island's mascot - Petros the pelican.
Day 5 - Myconos
Myconos is famous also for its superb beaches. There's a beach for every taste from cosmopolitan and nude beaches to secluded ones for the shy. Take a local boat and visit Paranga, Paradise, Super Paradise, Agrari or Elia.
Have lunch in the taverna and come back home in the late afternoon for a welcome siesta. In a fabulous garden your dinner table is waiting for a unique evening.
Day 6 - Myconos
Well, it's about time to do some shopping as Myconos is the place where one can find the best of everything.
Specialities include handicrafts, gold and silver jewelry, embroidered shirts and dresses, fabrics, fluffy sheep wool, pottery, onyx, marble, famous paintings. Don't forget to pick up the amygdaloto, a sweet made almonds (local speciality) and a bottle of ouzo.
Day 7 - Myconos - Athens
Morning transfer to the airport for flight back to Athens, in order to connect with your homebound one.