ATHENS & SANTORINI - 7 DAYS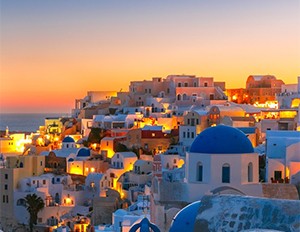 This is more than a stay, it is an exploration
Take a walk on the wild side overlooking the most famous sunset in the world.
Born of volcanic fire, now cooled to an island of startling beauty, this is what is left from... Lost Atlantis
Meet and greet service
Athens city tour
2 nights in Athens/4 nights in Santorini
Dinner in Athens/dinner in Santorini
Air Tickets Athens – Santorini - Athens
Day 1 - Athens
Arrival Athens, meet and greet at the airport and transfer to your hotel in Vouliagmeni
Day 02 - Athens
Morning city tour including visits to the Acropolis and its museum and a drive along Athens main streets.
Tonight we chose a special place for your welcome honeymoon dinner where you will have a unique experience.
Day 03 - Athens - Santorini
In the morning you'll be picked - up from your hotel to be transferred to the airport for flight to Santorini.
Upon arrival you'll be transferred to your private villa overlooking the largest crater in the world, with depths of over 400 meters.
Day 04 - Santorini
Wake up and start walking along the Town. The sights you are about to see are definitely out of this "world". The Caldera is a labyrinth of tradition with its white washed architecture overlooking the volcano and the deep blue Aegean sea. Hot and tired? Have a bite at one of the many tavernas and prepare to head back up to catch the sunset. Discover the secrets of Santorini as here paradise is at its best.
Day 05 – Santorini
If you are dreaming of a place where you can lie on the black beaches under the hot sun, then Santorini will fulfill your dreams. If you wish to see the lifestyle of the locals, you can assimilate into their unique culture much more quickly if you occasionally offer a "Yiasou" (hello) to the inhabitants.
Tonight be ready for a special dinner while listening to soft music.
Day 06 - Santorini
Coffee plays an important role in the daily life of the Greeks. So it's about time to try a Greek invention, the frappe (a tall glass of iced coffee shaken up), or go to a local coffee house and have a cup of Greek coffee. Continue your quest and go to Acrotiri, where excavations brought to light a prehistoric city destroyed by a volcanic eruption and you will realize the cultural roots of mankind and the continuous unremitting course of history through time.
Day 07 - Santorini - Athens
Morning transfer to the airport for flight back to Athens, in order to connect with your homebound one.