ATHENS, SANTORINI & MYCONOS - 11 DAYS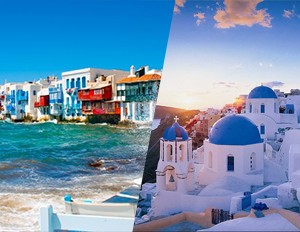 Welcome to the relaxing days and romantic nights of your holiday.
Come to discover Greece. We're ready to make your dreams of paradise a reality. Golden sun, white sand and turquoise water because you deserve the best.
Meet and greet service  
Athens city tour
2 nights in Athens/4 nights in Santorini/ 4 nights in Myconos
Dinner in Athens/drink in Santorini/ dinner in Myconos
Air tickets: Athens- Santorini - Myconos - Athens
Day 1 - Athens
Arrival Athens, meet and greet at the airport and transfer to your hotel in Vouliagmeni.
Day 2 - Athens
In the morning,  sightseeing of the city including the guided visit of the awesome Acropolis and its museum. Tonight you have the opportunity to enjoy a candlelight dinner at one of the best restaurants in town, the "Ithaki ".
Day 3 - Athens - Santorini
In the morning you'll be  transferred to the airport for flight to Santorini.Upon arrival you'll be transferred to your hotel high on the cliffs. In the afternoon, whilst sitting on the terrace enjoying the fantastic view, a delicious local wine will be offered.
Day 4 - Santorini
Day at leisure to visit the picturesque town of Fira with its winding streets.
Day 5 - Santorini
Drive to the well known excavations of Acrotiri at the southern end of the island. Continue your quest and have a swim at Kamari black sandy beach.
Day 6 - Santorini
In  the afternoon go to Franco's bar to see the fantastic view of the sunset that will captivate you forever.
Day 7 - Santorini - Myconos
Morning transfer to airport for flight to Myconos. Upon arrival meet and transfer to your hotel at Plati Yalos.
Day 8 - Myconos
Even one of the best beaches is only a few steps away from your hotel, or better take the small local boat and go to Super Paradise Beach where everything is possible.
Day 9 - Myconos
Today you can go to Psarou beach and try a local speciality the best in the island, the renowned onion pie. In the evening you will have an elegant  dinner at the Philippi restaurant, one of the best in town.
Day 10 - Myconos
Why don't you take the  boat to Delos today? It is only one hour sail from Myconos and you'll never regret this visit.
Day 11 - Myconos - Athens
Morning transfer to the airport for flight back to Athens, in order to connect with your homebound one.