ATHENS & CORFU - 7 DAYS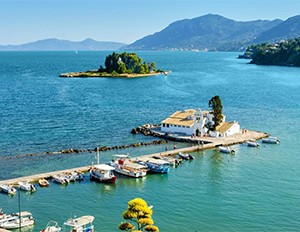 There are other unexplored warm water destinations, but they're not as hospitable as ours. Learn not to try to upset the balance of nature and your trip will be ruled by passion and romance.
Meet and greet service
Athens city tour
2 nights in Athens/4 nights in Corfu
Dinner in Athens/dinner in Corfu
Air tickets: Athens-Corfu-Athens
Day 1 - Athens
Arrival Athens, meet and greet at the airport and transfer to your hotel in Vouliagmeni
Day  2 - Athens
A morning program of sightseeing to the main streets of Athens, followed by the visit of the Acropolis and its museum is the beginning of a unique day. Tonight you will enjoy a private dinner at a restaurant overlooking the sea.
Day  3-  Athens - Corfu
In the morning you'll be picked - up from your hotel to be transferred to the airport for flight to Corfu.
Soon after your arrival there our representative will take you to a specially reserved horse carriage for transfer to your hotel.
Day 4 - Corfu
Today you'll visit the most famous of Corfu's buildings, the Achillion Palace. It was constructed for the Empress Elizabeth of Austria and it is here where you can admire the statue of Achiles Dying, the wonderful surrounding gardens and finally visit the casino. Since in Corfu one can find an enormous variety of restaurants, tonight you'll be the guest of honour in one of the best one in town.
Day  5 - Corfu
Some of the finest scenery in Greece is to be found at Paleokastritsa, which you are going to visit today.
Deeply intended bays and crystal blue-green water, rocky promontories and the Monastery founded in 1228 are just a few of the marvels of this unique trip.
Day 6 - Corfu
Your last day in Corfu. Today has to be devoted to the town of Corfu which kept its traditional charm while successfully and harmoniously blending in modern elements. Have a cup of coffee in one of the many open cafes at the Liston, which fronts the largest square in Greece, the Espalande a small replica of the Rue de Rivoli in Paris and see the people go by.
Day 7- Corfu - Athens
Morning transfer to the airport for flight back to Athens, in order to connect with your homebound one.