ATHENS & CRETE - 7 DAYS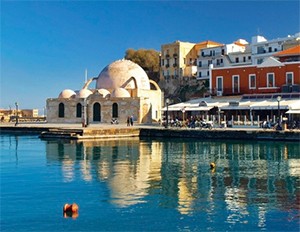 In the land that inspired great discoveries, you'll make some important ones of your own.
Here the soul doesn't wear a watch and the body has a mind of its own.
Welcome to paradise … Your dreams will follow.
Meet and greet service  
Athens city tour
2 nights in Athens/4 nights in Crete
Dinner in Athens/dinner in Crete
Air tickets: Athens-Heraklion-Athens
Day 1 - Athens
Arrival Athens, meet and greet at the airport and transfer to your hotel.
Day 2 - Athens - Heraklion
A  morning program of sightseeing to the  main streets of Athens, followed by the visit of the Acropolis and its museum. Is the beginning of a unique day. Since your vacation includes everything, but not everybody, tonight you will enjoy a private dinner at a first class restaurant.
Day 3 - Elounda
In the morning you'll be picked-up from your hotel to be transferred to the airport for flight to Heraklion (Crete). Upon arrival in Crete you will be transferred to Elounda where your hotel is located.
Day 4 - Elounda
Today you can rent a car and drive west through old and new villages hidden behind walls with narrow alleys and winding past squares to arrive at Knossos, the capital of the Minoan Kingdom. Three storey high, with splendid  architecture and decorated inside with famous frescoes the Old Palace is the highlight of the day.
Day 5 - Elounda
An interesting place to be visited today is the small and picturesque town of Ag. Nikolaos right in the heart of the Mirabello Bay and located only a few miles away from your hotel. The seafront and one side of the lake are set with tables where you can enjoy an open air lunch and the view around.
Day 6 - Elounda
Your last day in Crete. Try to discover all the facilities and the surroundings which this marvelous resort  offers and have a light  lunch in one of the four restaurants existing. Recreation facilities will certainly meet your requirements whether  they are leisurely relaxation, staying in shape or getting fit. As the day draws to an end, the evening entertainment will begin with a candlelight dinner specially offered to you.
Day 7 - Heraklion - Athens
Morning transfer to the airport for flight back to Athens, in order to connect with your homebound one.
Please don't forget a once in a lifetime experience!
If you are interested in the Cretan cuisine, then this is your chance to join a local cooking lesson, or enjoy the nature of Crete.
FOR MORE INFORMATION AND RATES PLEASE CONTACT US.