METEORA MONASTERIES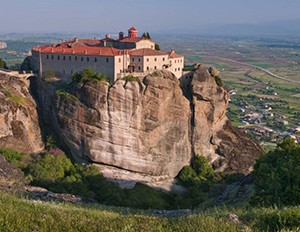 | | |
| --- | --- |
| PORT: | VOLOS |
| SHORE EXCURSION: | Meteora Monasteries |
|   |   |
| TOUR AT A GLANCE |   |
| Activity level | high |
| Duration | 8 hours |
| You will visit | 2 monasteries |
| You will see | the plain of Thessaly |
| Meals | lunch |
| Shopping | short time for souvenir shopping at the monasteries |
TOUR OVERVIEW:
Take a drive through Volos via Thessaly on your journey to Larissa, capital of the province to reach the Meteora Monasteries. These inaccessible pinnacles of rock served as an ideal refuge for medieval monks and offered the isolation sought for religious prayer and the safety from plundering bandits.
This is a unique phenomenon of nature - 24 perpendicular rocks on which about 600 years ago Byzantine monks chose to worship God and built Meteora, their monastic community. How the monasteries were built on top of these virtually inaccessible rocks is a subject of fascination for pilgrims and visitors alike. The monasteries, with their wooden galleries and cornice rooftops, crown the summits of these gigantic rocks etched by time into a variety of shapes, grey stalagmites rising towards the sky.

Your guide will take you to two of the monasteries via numerous steps, pausing periodically to relate their stories and rich history. The climb is well rewarded as you tour the interesting monastic buildings and admire the sweeping views of the low plains of Thessaly, as well as the neighboring monasteries atop their pillars of stone. As you stand and observe the panorama, you cannot help but be amazed and filled with admiration for those early pious monks whose gritty determination built these religious monuments.

Luncheon will be served at a local restaurant before the drive back to Volos.
Important Notes:
This excursion will operate by coach and on foot.
Note that all minors (those under 18) must be accompanied by an adult on shore excursions.
The drive between Volos and Meteora is approximately two hours each way.
Guests are advised to wear comfortable walking shoes, as there is approximately two hours of walking with numerous steps to negotiate.
Please dress appropriately for entering the monasteries. Ladies are requested to wear skirts and have their shoulders covered. Shorts are not permitted.
Cameras and videos are not permitted inside the monastery buildings, although photography is allowed in the forecourts.
Non slippery comfortable shoes are recommended.
Rest room facilities at the monasteries and the restaurant.