CITY TOUR PILION VILLAGES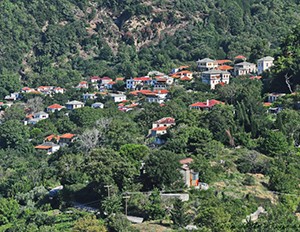 | | |
| --- | --- |
| PORT: | VOLOS |
| SHORE EXCURSION: | Mount Pelion and its villages |
|   |   |
| TOUR AT A GLANCE |   |
| Activity level | moderate |
| Duration | 4 hours |
| You will visit | Archaeological Museum of Volos, Portaria & Makrinitsa villages |
| You will see | Unique landscape of Mount Pelion |
| Shopping | short time for souvenir shopping in the villages |
TOUR OVERVIEW:
Volos' harbor is a particularly active one. It is the main export center of Thessaly and the scene of a both commercial and passenger bound for the Sporades and the ports of Middle Eastern cities. It is from here where we are going to start our tour which will show you another marvelous part of Greece.
Our first stop will be at the Volos Archaeological Museum which contains a rich store of finds from the Neolithic period, the Bronze Age, pottery of the 8th and 5th century and 6th and 5th century BC sculpture. Its collection of Hellenistic grave stelai from Dimitrias is also unique; their well-preserved paintings are considered among the most important examples of ancient Greek art.
Leaving the museum we will head north-east where Mount Pilion rises in lush magnificence, land of the legendary Centaurs, the site chosen by the ancient Gods for their weddings and celebrations. Climbing the ascent up the slope of the mountain, the road leads us to Portaria village, a lovely summer resort with abundant crystalline water and peaceful pathways.
From Portaria west a fork in the road winds up to a flat area filled with shady plane trees through which the beautiful village of Makrinitsa can be seen. Here we will stop for a walk along the main streets of the village built amphitheatrically on the side of the mountain, offering a splendid view of the gulf below.
Important Notes:
This excursion will operate by coach and on foot.
Note that all minors (those under 18) must be accompanied by an adult on shore excursions.
This excursion involves approximately 1 hour walk over a slight incline and some cobblestones streets in each village.
Guests are advised to carry a hat and non slippery comfortable shoes.
Rest room facilities at the museum as well as in the villages.