FIRA AKROTIRI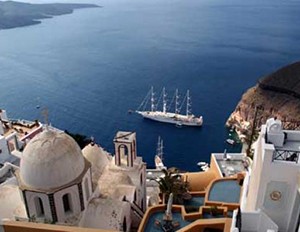 | | |
| --- | --- |
| PORT: | SANTORINI |
| SHORE EXCURSION: | Fira and Akrotiri Excavations |
|   |   |
| TOUR AT A GLANCE |   |
| Activity level | high |
| Duration | 4 hours |
| You will visit | Akrotiri and Fira |
| You will see | the Prophet Elijah Mountain |
| Shopping | time for shopping in Fira |
TOUR OVERVIEW:
From the ship you will board a local tender and disembark after 15 minutes at the island's main port Athinios. Here we will board the motorcoach and the tour begins with an interesting drive up the hill and along the coast to the southern part of the island, where the internationally famous Akrotiri excavations are located. Santorini was one of the most important centers of the Cycladic civilization. At Akrotiri you will see the town dating back to 3000 BC, which was destroyed in approximately 1500 BC by the terrible volcanic eruption. The archaeological pick has brought to light a marvelous town with two- and three-storied houses filled with superb wall- paintings. A town which you can visit, literally strolling through its narrow lanes. 
Relax as you head towards the ancient site of Akrotiri during a scenic drive through the island's quaint villages. The dramatic landscape was formed in 1650 BC when a monstrous volcanic eruption rocked Santorini, creating its dramatic caldera and 2 small islands.
Upon arrival at Akrotiri, your knowledgeable guide will escort you through this unearthed city, which is considered one of the most important prehistoric settlements in the Mediterranean and often referred to as the Minoan Pompeii.
After exploring these fascinating ruins, you'll revel in the breathtaking views from Santorini's highest point, The Mountain of Prophet Elijah, which is located 2,000 feet above sea level.
Fira is the island's largest town, where narrow cobblestone lanes lead uphill past whitewashed homes, outdoor cafés and marvellous little shops. Free time will be given for you to explore Fira independently before making your own way back to the ship, using the cable car ticket provided.

Important Notes:
This excursion will operate by coach and on foot.
Note that all minors (those under 18) must be accompanied by an adult on shore excursions.
Santorini has two ports: Athinios (for ferries and buses) and Skala for individual tourists.
The tour ends in Fira with a walk of about 500 meters to reach the cable car station.
Free time in Fira involves walking through narrow cobblestone streets with numerous flat steps, so low-heeled, comfortable shoes are recommended.
Photos are not permitted at Akrotiri.
Rest room facilities at the site.