PANORAMA RHODES FILERIMOS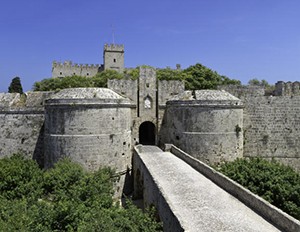 | | |
| --- | --- |
| PORT: | RHODES |
| SHORE EXCURSION: | Panoramic Rhodes and Filerimos |
|   |   |
| TOUR AT A GLANCE |   |
| Activity level | low |
| Duration | 3 hours |
| You will visit | Monastery of Filerimos |
| You will see | Scenery drive along the coastal road |
TOUR OVERVIEW:
Leaving the port along the coastal road you will have the opportunity to admire many luxurious hotels, resorts and beaches of the island of Roses, to arrive in the Ialyssos area.
Archaeological research has demonstrated that the area around ancient Ialyssos, which was one of the three famous Dorian cities of Rhodes, was inhabited from the Minoan and Mycenaean periods. The city lays 10 km to the west of Rhodes, around and above Mount Filerimos. The upper part of Filerimos is a large plateau from where you will have a marvelous panoramic view of the area as far as the town of Rhodes. Here, in the small square we will stop for refreshments or a visit to the Byzantine monastery, which was built during the 15th century by the Knights of St. John on the site of the ancient city of Ialyssos. The monastery that one can see today, with a courtyard surrounded by cloisters and cells, was rebuilt by the Italians. If you are looking for a panoramic view of the surroundings you can follow the road called "Calvary" which has scenes of the Passion on both its sides and leads to the western part of the hill, dominated by a huge cross visible from everywhere on the island.
Leaving the slopes of Filerimos you will be driven inland, which is an unforgettable experience on account of the wonderful scenery and abundance of monuments in every village and hamlet with its highlight the ancient acropolis of Mount Smith summit. From here there is a magnificent view over verdant land and azure sea. Crossing the Old and New Town of Rhodes you will be driven back to the pier, after a drive that shows you another face of the island.
Important Notes:
This excursion will operate by coach and on foot.
Note that all minors (those under 18) must be accompanied by an adult on shore excursions.
Tour involves mostly driving and it is recommended for persons with physical limitations.
Guests are advised to wear comfortable walking shoes.  
Rest room facilities at the monastery.