LINDOS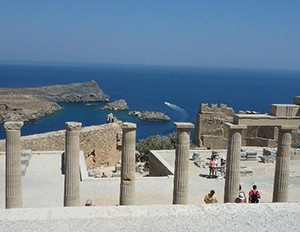 | | |
| --- | --- |
| PORT: | RHODES |
| SHORE EXCURSION: | Lindos |
|   |   |
| TOUR AT A GLANCE |   |
| Activity level | high |
| Duration | 4 1/2 hours |
| You will visit | the Acropolis of Lindos |
| You will see | the scenic drive |
| Shopping | time for shopping in the village |
TOUR OVERVIEW:
After a drive through the picturesque countryside of Rhodes, we will reach Lindos that offers one of the most dramatic sights anywhere.
It is built on the ruins of the ancient Doric town of the same name. Lindos, the town that "glories in the sea" is located 35 miles from Rhodes, on a rocky promontory in the middle of the island's east coast. An impressive square of rocky cliffs rises 400 feet from the sea, on top of which the ancient Acropolis was built into a castle. It is said that St. Paul the Apostle landed here when he came to the island of Rhodes. Climbing upwards, one comes to an impressive colonnade with two wings stretching across the Acropolis built in the Hellenistic period. Its stairs pass through the colonnade and reach a monumental gateway (no trace remains), and then the temple itself, perched on the highest point of the eastern edge and overlooking the Mediterranean.
Under the steep cliff of the Acropolis lies the present charming townlet, with its whitewashed houses and stone paved courtyards. Houses retain traditional interiors, heavy ironwork on balconies and brown windows. Some 15th century houses have been declared as historical monuments.
Following the same coastal road back to Rhodes town, will be back in time for lunch on board the ship.
Important Notes:
This excursion will operate by coach and on foot.
Note that all minors (those under 18) must be accompanied by an adult on shore excursions.
Tour involves considerable walking and stair climbing, including many stairways without railing, therefore passengers with physical limitations should take this into consideration when booking.
Comfortable walking shoes, sunglasses and hats are recommended.
Rest room facilities at the site.