OLD TOWN GRAND MASTERS PALACE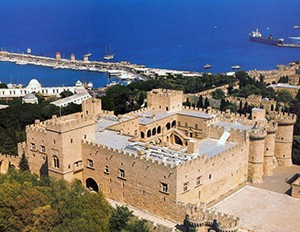 | | |
| --- | --- |
| PORT: | RHODES |
| SHORE EXCURSION: | Old Town and Grand Masters Palace |
|   |   |
| TOUR AT A GLANCE |   |
| Activity level | high |
| Duration | 3 1/2 hours |
| You will visit | the Old Town and Grand Masters Palace |
| You will see | the various parts of the city |
| Shopping | time for shopping in the old town's Bazaar |
TOUR OVERVIEW:
Leaving the Mandraki port, the most picturesque of the three ports of the city, one is welcomed by two bronze deer. Erected where probably the famous Colossus of Rhodes used to stand, they have become the modern emblem of the city.
West of the city of Rhodes rises, to a height of some 300 feet, the hill of Mount Smith which constituted the Greek Acropolis, occupying the eastern slope of the hill. Situated in the midst of olive groves is a stadium of the 3rd century BC and a small theater of an unusual square form almost completely restored.
The slopes of the hill merge into the present town and the best starting point for a journey through medieval Rhodes is at the fortification walls (15th – 16th century).  Entering one of the five gates one can walk into the fascinating Old Town, full of impressive 15th century buildings, stone-paved lanes with arches, rows of little shops - a modern touch to the medieval picture. The Street of the Knights, the official street of the Old Town follows the ancient road to the Palace of the Grand Masters, which is a palace and a fortress that dominates the area. The Grand Masters Palace was built by the Knights at the end of the 14th century. Floors are paved with ancient mosaics from the island of Kos.
After the visit of the Palace you will have the opportunity to mingle with all the other visitors for shopping on Socrates Street, which serves as the island's bazaar.
Important Notes:
This excursion will operate by coach and on foot.
Note that all minors (those under 18) must be accompanied by an adult on shore excursions.
The tour of the Old town is entirely on foot (cobbled streets), therefore passengers with physical limitations should take this into consideration when booking.
Comfortable walking shoes, sunglasses and hats are recommended.
Rest room facilities at the site.