MYRINA POLIOCHNI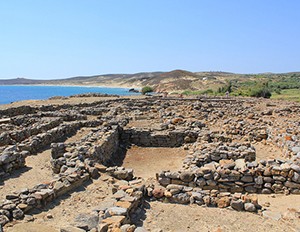 | | |
| --- | --- |
| PORT: | LIMNOS |
| SHORE EXCURSION: | Myrina and Poliochni |
|   |   |
| TOUR AT A GLANCE |   |
| Activity level | low |
| Duration | 4 hours |
| You will visit | Archaeological Museum, Poliochni and Moudros |
| You will see | Beaches and natural bays |
| Shopping | time for souvenir shopping in town |
TOUR OVERVIEW:
Our tour will commence with a short drive of the capital, Myrina, where one will see old and modern buildings.

The first stop will be at the Archaeological Museum of Myrina where once can see the display of all local finds, mainly from the sanctuary of Hephaestus Kaberoion, which is said to be the oldest Greek sanctuary.
After the visit of the museum we will depart for the pre historic city of Poliochni which is now uncovered and said to have achieved its acme between 2700-2000 BC and continued to remain occupied until 1600 BC. Today we find many large houses, walls and public buildings. These splendid examples date back to the fourth phase.

You will continue to the second largest city of Lemnos, Moudros village. Moudros is a very beautiful, picturesque harbor town with a population of 1000 people – a beauty of itself with its spectacular beaches. Here you will have time to wander around, take pictures or purchase some local souvenirs. It is located on the east side of Moudros bay on the roots of a small hill. Moudros bay is one of the biggest, natural bays in Greece. It is also of great ecological importance.
The church of «Taxiarches», which was built around 1370, is located at the end of a beautiful road close to market «agora». It is worth to visiting this church, the interior is captivating, especially the wooden «templo» that separates the church into two distinguishing parts. It took the sculptor two years to finish this «templo».

Return back to the port.
Important Notes:
This excursion will operate by coach and on foot.
Note that all minors (those under 18) must be accompanied by an adult on shore excursions.
Most of the tours is driving and easy walking and it is recommended for persons with physical limitations.
Comfortable foot-wear, layered clothing are recommended.
Rest room facilities at the museums.