PHILIPPI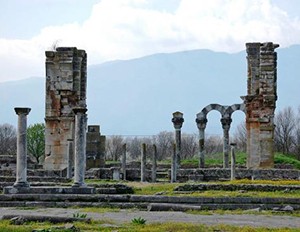 | | |
| --- | --- |
| PORT: | KAVALA |
| SHORE EXCURSION: | A visit to Philippi |
|   |   |
| TOUR AT A GLANCE |   |
| Activity level | moderate |
| Duration | 4 hours |
| You will visit | the site at Philippi |
| You will see | the town of Kavala |
| Shopping | time for shopping in town at the end of the tour |
TOUR OVERVIEW:
Over the course of time, the region of Kavala had a turbulent history of invasions, wars and oppression before evolving into the important commercial center it is today. A modern business center, Kavala, is amply endowed with charms to attract and captivate any visitor. Leaving the town of Kavala, one of the most important ports of Northern Greece and capital of the tobacco industry, we are heading north to Philippi, the famous ancient Greek pilgrimage place.
 
Philippi was to be a bastion, and its great walls were built down the steep hillside from the Acropolis on the summit to enclose a substantial area of the level plain below. The coming of St. Paul to Philippi in obedience to the vision he saw at Troas is vividly written in the Acts of Luke (chapter 16), who traveled with him. For those who would like literally to walk in the footsteps of the Apostle, Philippi provides an opportunity. One can walk down the main road to the west, the Via Egnatia, till the river, a mile away marked by a line of trees, where St. Paul preached the Gospel to the Lydians, the first people in Europe to adopt Christianity. A pretty modern church, named the Baptistery of the Lydians, stands on the site. Other important places we will visit are the Roman crypt were St. Paul was imprisoned, the celebrated Roman Forum, the Acropolis and the Theater.
 
Our tour will be concluded in the port after a visit that gave you the opportunity to see one of the gems of eastern Macedonia.
Important Notes:


This excursion will operate by coach and on foot.
Note that all minors (those under 18) must be accompanied by an adult on shore excursions.
Comfortable walking shoes, sunglasses and hats are recommended.
Rest room facilities at the site.