DIROS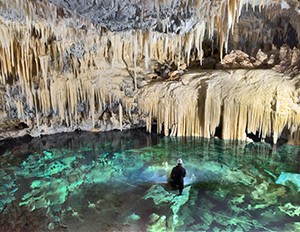 | | |
| --- | --- |
| PORT: | GYTHION |
| SHORE EXCURSION: | Diros Caves |
|   |   |
| TOUR AT A GLANCE |   |
| Activity level | high |
| Duration | 3 1/2 hours |
| You will visit | Diros Caves and Areopoli |
| You will see | Mani region landscape |
| Shopping | time for souvenir shopping in Aeropolis |
TOUR OVERVIEW:
Driving from Gythion through spectacular landscape you will arrive after 45 minutes driving at the famous Diros Caves.
They are part of an underground river, and the 5,000 meters that have been exposed are fascinating. From the entrance, skilful, whistling gondoliers steer small boats through narrow passageways, around beautiful formations of stalagmites and stalactites, their colors created by rain water penetrating the calcium carbonate in the rock.
The caves have served as places of worship in Paleolithic and Neolithic times; they are thought by many to be connected to the Underworld. The cave began taking shape hundreds of thousands years ago, even though it is consider to be known to the locals by the 1900. The stalactites and stalagmites that are today found underwater were formed when the seawater surface was much lower than its current level. Explorers have discovered stalactites at a 71-metre depth. Inside the cave, explorers have discovered fossilized bones of panthers, hyenas, lions, deer and ferrets, as well as the largest deposits of hippopotamus in Europe. Ceramic finds near the cave's natural entrance evidenced human presence.
After the visit of the caves your will be driven to Areopoli, the key place for exploring the region of Mani. It has been characterized as a preserved settlement. It is a big village with many reconditioned towers. Here you will have a short stop before returning back to Gythion.
Important Notes:
This excursion will operate by coach and on foot.
Note that all minors (those under 18) must be accompanied by an adult on shore excursions.
Visit to the cave includes 15 minutes walk to get to the entrance and another 30 minutes in Areopoli village.
Walking along uphill and paved terrain – comfortable non-slip shoes as well as towels are recommended.
Not suitable for wheelchair confined guests.
The non flash cameras and videos are allowed.
Rest room facilities at the caves and in Aeropolis.