GYTHION MYSTRAS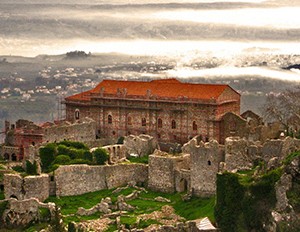 | | |
| --- | --- |
| PORT: | GYTHION |
| SHORE EXCURSION: | A visit to Mystras |
|   |   |
| TOUR AT A GLANCE |   |
| Activity level | high |
| Duration | 4 hours |
| You will visit | Mystras |
| You will see | Sparta |
| Shopping | time for souvenir shopping in Gythion |
TOUR OVERVIEW:
Leaving the picturesque small town of Gythion we are heading north and after about 45 minutes we will arrive at Sparta, the capital of Laconia. As we approach Mystras (only a 10 minutes drive from Sparta) you will feel as if you were making a pilgrimage to Byzantine Greece.
Going up the hill, you enter Mystras through the castle gate, which welcomes you to wander for a while, delighted, through the narrow lanes of this once invincible fortress.
The whole of Mystras is an open-air museum, a reminder of glorious era of power and culture. Its fortifications and churches, its palaces and mansions, its roads and fountains, charm thousands of visitors daily and offers them valuable insights in the evolution and culture of the Byzantines.
It is a spectacular complex, comprised of buildings built at different times. At the top of the hill, at an altitude of 620 m., the fortress was built in 1249 and in later years many improvements and additions were made. It has two yards, with a gate for each. There are two lines of fortification in it.
Mystras had three gates: the fortified Gate in the outer wall -today the main entrance for visitors, at the point where the road ends, the Upper Gate (Fortress Gate) and the Gate of Nafplion, high up on the northern side of the inner wall, fortified with square and circular towers and with an iron portal that could be lowered and lifted. Internal communication between Kato and Ano Hora was through the Gate of Monemvasia, also known as "Sideroporta" ("Iron Gate").
The most important and oldest monument that you will meet on your way up to the hill is the Cathedral of Agios Dimitrios. On the floor of the church is the two- headed eagle, the symbol of the Palaeologos Dynasty, carved into a plaque. According to tradition, this is where Constantine XII stepped when he was crowned king. Next to it stands the richly carved 17th century walnut throne. Strolling through the narrow lanes of the dead city, you will visit the Church of Agia Sophia, the Palace of the Despots and the Monastery of Pantanassa, with its brilliant frescoes.
Return back to Gythion following the same road.

Important Notes:
This excursion will operate by coach and on foot.
Note that all minors (those under 18) must be accompanied by an adult on shore excursions.
Visit to the site involves climbing, strenuous walk of approximately 2 hours with period of standing.
Walking along uneven slippery pathways uphill – comfortable non-slip shoes are recommended.
The non flash cameras and videos are allowed.
Rest room facilities at the site.