KNOSSOS PALACE HERAKLION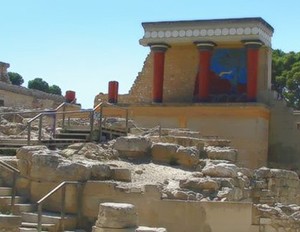 | | |
| --- | --- |
| PORT: | HERAKLION (Crete) |
| SHORE EXCURSION: | Knossos Palace and Heraklion Town |
|   |   |
| TOUR AT A GLANCE |   |
| Activity level | moderate |
| Duration | 4 hours |
| You will visit | Knossos Palace, Heraklion town |
| You will see | Heraklion |
| Shopping | free time for shopping in Heraklion |
TOUR OVERVIEW:
Within a short drive from the pier, lies Knossos and the Palace of Minos, the heart of a marvelous civilization that flourished about four thousand years ago and disappeared mysteriously fifteen hundred years before the dawn of the Christian era.
The ruins of the capital of the Minoan kingdom were discovered in 1899 and it was Sir Arthur Evans with his personal conviction, enthusiasm and skill that opened up the lost world with his excavations. The palace is a labyrinthine complex built around a central court and surrounded by the homes of the officials and priests, the Little Palace, and the homes of the ordinary people. This multi- storied construction covered an area of 22,000 sq.m. and, in addition to the royal quarters - the Throne room, the Queen's Megaron, the Hall of the Double Axes-, also contained places of worship, treasuries, workshops and storerooms with huge jars, still in place, and the oldest sanitary system in the world.
Leaving Knossos we will head to Heraklion, where an orientation drive of the city will be provided, followed by free time in the main square.
Important Notes:
This excursion will operate by coach and on foot.
Note that all minors (those under 18) must be accompanied by an adult on shore excursions.
The tour of the Palace as well as the Town are entirely on foot therefore passengers with physical limitations should take this into consideration when booking – comfortable non-slip shoes are recommended.
Rest room facilities at the Palace.