GORTYS PHAESTOS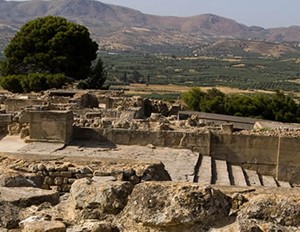 | | |
| --- | --- |
| PORT: | HERAKLION (Crete) |
| SHORE EXCURSION: | Gortys and Phaestos |
|   |   |
| TOUR AT A GLANCE |   |
| Activity level | moderate |
| Duration | 4 1/2 hours |
| You will visit | Gortys and Phaestos |
| You will see | countryside and olive groves |
| Shopping | short time at the sites |
TOUR OVERVIEW:
This tour will take you through the mountain pass of Vourvouliti, across craggy countryside and through olive groves to Gortyn, the capital of Crete in the Roman period. A settlement from Minoan through the Christian time, the ancient city-state of Gortys began to flourish under Dorian rule during the 6th century BC. It is here where you will have the opportunity to see the most extensive set of early written laws in the Greek world dating from 500 BC, which were displayed to the public and related to domestic matters including marriage, divorce, adoption, obligations of slavery, the sale and division of property.
Our drive continues south-west to Phaestos, the second most important Minoan palace. Here the excavations brought to light a typical Minoan palace dating from the same period as the main building of the Palace of Knossos. As all palaces in Crete, the design is similar: an open rectangular court, a set of reception or state apartments with a pillar- hall, storerooms for grain, oil or wine, a monumental staircase rising to the domestic quarters and semi-underground sacred areas or shrines. Phaestos shows no trace of fortifications, nor indeed do any other of the Cretan palaces.
To sit on the grand staircase and imagine past splendor is an unforgettable experience.
Important Notes:
This excursion will operate by coach and on foot.
Note that all minors (those under 18) must be accompanied by an adult on shore excursions.
The tour of both archaeological sites are entirely on foot therefore passengers with physical limitations should take this into consideration when booking – comfortable non-slip shoes are recommended.
Rest room facilities at the sites.