ANAVATOS NEA MONI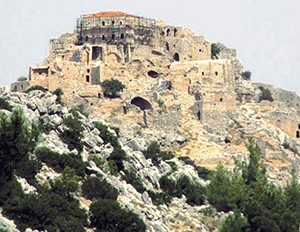 | | |
| --- | --- |
| PORT: | CHIOS |
| SHORE EXCURSION: | Anavatos and Nea Moni |
|   |   |
| TOUR AT A GLANCE |   |
| Activity level | moderate |
| Duration | 3 1/2 hours |
| You will visit | Nea Moni Monastery and Anavatos Village |
| You will see | Avgonima village |
| Shopping | time for souvenir shopping in town |
TOUR OVERVIEW:
Following the wonderful landscapes of the island of Chios, we reach Nea Moni, one of the most important Byzantine monuments. It lies in a delightful wooden glen high up in the mountains above the modern town, which occupies the site of the ancient Greek city of Chios. The monastery is in fact nearly 1,000 years old, founded between 1042 and 1054 by the Emperor of Byzantium Constantine IX Monomachos, after the discovery of a miraculous icon by a peasant in the mountains above. The fine mosaics in the church, dating from the 11th century when the monastery was founded, are among the most interesting Byzantine mosaics in Greece.
They have recently been restored after suffering much damage from the earthquakes by which the island is affected from time to time.
Leaving the monastery, our drive will continue to the Byzantine village of Anavatos, the "Mystras" of the Aegean, built high on a rocky elevation for protection against the pirates.
The surroundings of this area are quite beautiful, though the history is tragic. During the 1822 Turkish invasion more than 400 families were killed.
It is quite impressive due to the fact that it plunges into a large granite rock at the top of the cliff. Although it is a deserted village, it still preserves its history. The Church of the Taxiarchis (the Archangel) is still preserved. It is the only building which stills stands out amidst this living ghost-town. Not far from the wall's gate, there is an overbearing structure which protrudes amongst the buildings along the east side. It is the so called "three-story" building, consisting of an olive oil press, school and water reservoir and the Church of the Theotokos (the Virgin Mary). Anavatos, with its tower-like houses, arches and steep cobbled roads, emphasizes the force of nature and accentuates the supremacy of the heavens.
Following the same route back, you will return back to your ship.
Important Notes:
This excursion will operate by coach and on foot.
Note that all minors (those under 18) must be accompanied by an adult on shore excursions.
Guests are advised to wear comfortable walking shoes, as there is approximately 1 ½ hours of walking with periods of standing over some gravel pathways and steps.
Not suitable for wheelchair confined guests.
Comfortable foot-wear, layered clothing are recommended.
Rest room facilities at the monastery.