MESTA PYRGI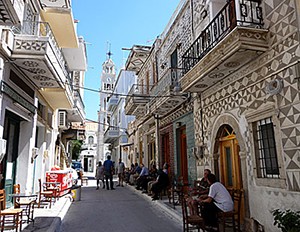 | | |
| --- | --- |
| PORT: | CHIOS |
| SHORE EXCURSION: | Mesta & Pyrgi medieval villages  |
|   |   |
| TOUR AT A GLANCE |   |
| Activity level | moderate |
| Duration | 3 1/2 hours |
| You will visit | Mesta & Pyrgi Villages |
| You will see | Mastic trees and the Kambos |
| Shopping | time for souvenir shopping in the villages |
TOUR OVERVIEW:
Leaving the harbor of Chios the bus will follow the western coastal road of the island to arrive at Mesta, a medieval village which, together with Pyrgi and Olympi, represents the fortifying architecture of the 14th and 15th centuries on the island. In the center of each village, a defensive tower was erected, in order to protect the peasants from the pirates' invasions. The narrow, stone-paved streets are joined to the central square. Mesta, is a perfectly preserved village-castle of the Byzantine period (14th and 15th centuries). It keeps its houses tied tightly together in what seems like a closed and compact form. The streets are cobbled and narrow. The gray houses had doors and windows that faced only the interior of the wall, that is, inside the village. The outer walls contained adjoining parapets with small towers at the corners and gates at two or three points.
Continuing our tour, you will arrive at Pyrgi, the "painted" village with its white geometrical decor on the outer walls of the houses, called "xista" (scratched); something that enchants every visitor.
At Pyrgi one sees scraped designs called Xysta on the facades of the houses. This is a technique of hand-engraving geometric motifs in black and white on plaster. It is based on plastering-sand being applied to the wall, carefully painted white, then scraped with the designs. These Xysta - reminiscent of the Italian Sgraffito (a form of decoration which stems from Genoa) - has made the Pyrgi unique.
The entire village of Pyrgi is one of the areas which still stand as it was built. The outer walls contained adjoining parapets with small towers at the corners and only one gate. The inhabitants could enter and leave the village only through a door which can be found today at the location Kato Porta.
Following the south-eastern route a stop will follow for a few minutes in the region where the Chios gum (or mastic) trees are growing. From these bushy trees, cultivated only here in the south of Chios, mastic gum is produced.
On the way back to the pier you will cross the Kambos (plain), one of the most beautiful places of the island, with orchards surrounded by tall medieval walls and gates inscribed with some forgotten coat of arms. Each of the large medieval houses has a water wheel and, in combination with the meadows, wooden bridges and old trees, creates a scene of rural peace, unique on the Greek islands.
Here ends the tour which takes you back in time …
Important Notes:
This excursion will operate by coach and on foot.
Note that all minors (those under 18) must be accompanied by an adult on shore excursions.
Guests are advised to wear comfortable walking shoes, as there is approximately 1 ½ hours of walking with periods of standing.
Rest room facilities in the villages.