DROGARATI MYRTOS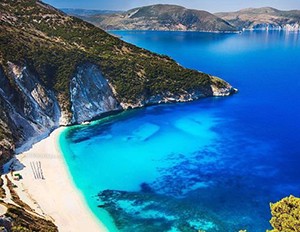 | | |
| --- | --- |
| PORT: | ARGOSTOLI (Cephalonia) |
| SHORE EXCURSION: | Drogarati Cave and Myrtos Bay |
|   |   |
| TOUR AT A GLANCE |   |
| Activity level | moderate |
| Duration | 4 hours |
| You will visit | St. Gerasimos Monastery and Drogarati Cave |
| You will see | Myrtos Bay |
| Shopping | time for souvenir shopping in town |
TOUR OVERVIEW:
Leaving the port of Argostoli you will be driven to the St. Gerasimos Monastery for a short visit.
Agios Gerasimos is the patron saint of the island. On its feast day, the monastery is swarming with pilgrims. At the courtyard, there is a big plane tree and a well, which is said to have been dug by the saint himself. Inside, there is a trap-door where he is said to have spent the greater part of his life. On the 15th of August and the 20th of October, big festivals and processions take place. Many miracles are connected to the saint's relics and icon.
Our drive will then continue on to the Drogarati Cave known for its unusual stalactites. It is the size of a large concert hall and is sometime used as such due to its fine acoustics.
Drogorati cave stands a few kilometers outside the town of Sami. It is 45 meters in width, 21 meters in depth, and 9 meters in length. It consists of two parts. The upper part has collapsed and only huge stalactites of different colors remain. The second part is the cave proper (65 x 45 m), which is accessible to tourists and houses cultural events. It has extraordinary acoustics, thus its name: "Hall of Apotheosis".
The regulated lighting in combination with the multi-colored stalactites creates a picture of unique beauty.
Driving through along the west coast of the island you will arrive at enchanting turquoise bay of Myrtos a lovely cove with the most beautiful white sand beach and scenery on the island, where you will have time to have some unbelievable photos which for sure will enrich your album.
Following the east coast of the island you will be back in Argostoli, the capital of island, in time for lunch on board the ship.
Important Notes:
This excursion will operate by coach and on foot.
Note that all minors (those under 18) must be accompanied by an adult on shore excursions.
Guests are advised to wear comfortable non-slipperywalking shoes, due to walking over some gravel pathways and steps.
Rest room facilities at the monastery and cave.