ANCIENT CORINTH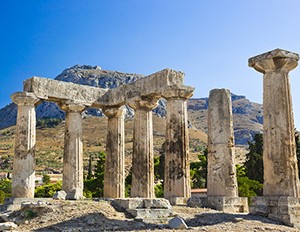 | | |
| --- | --- |
| PORT: | PIRAEUS (Athens)  |
| SHORE EXCURSION: | Ancient Corinth and the Canal |
|   |   |
| TOUR AT A GLANCE |   |
| Activity level | moderate |
| Duration | 5 to 5 1/2 hours |
| You will visit | Ancient Corinth |
| You will see | Landscape along the coastal road of the Saronic Gulf and the Canal |
| Shopping | short time for souvenir shopping in the area close to the Canal |
TOUR OVERVIEW:
Leaving the pier will drive towards the south part of the city towards the province of Peloponnese following the highway number two. After one and a half hour drive will reach the Corinth Canal.
With a length of 6 km and a width of 23 meters, the canal was constructed between 1882-1893 by French and Greek engineers at the narrowest point of the isthmus. This impressive work fulfills a concept considered by both the Ancient Greeks and the Romans to connect the Ionian and Aegean Seas, so ships no longer needed to sail round the Peolopennese, thus shortening the voyage by 185 nautical miles.
Here will stop for photos of the spectacular canal.
Leaving the Canal you will cross the new town of Corinth, and within a few minutes drive you will approach the old city of Ancient Corinth, spread out at the foot of the huge rock of Acrocorinth, in its day one of the most powerful city-states of Ancient Greece.
Here, the archaeological researches brought to light the columns of the 6th century BC Temple of Apollo, the ruins of the Agora, the tribune from where Apostle Paul preached, as well as the fountain Peirene.
Your next visit is at the museum which houses a splendid collection of pottery, terra-cotta sphinxes, statues of two supernatural beings, the Roman head of the Goddess Tyche and small objects of various kinds.
Following the same way back passengers will be at Piraeus in time for lunch on board.
Important Notes:
This excursion will operate by coach and on foot.
Note that all minors (those under 18) must be accompanied by an adult on shore excursions.
Comfortable non-slip shoes are recommended as the tour of the archaeological site involves a substantial amount of walking, but not very heavy.
Photo stop and shopping at the Corinth Canal 30 minutes.
Rest room facilities at the site and the Canal.