MYCENAE EPIDAURUS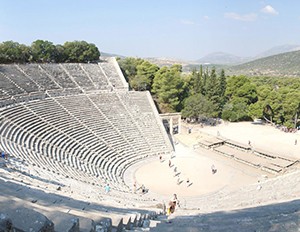 | | |
| --- | --- |
| PORT: | PIRAEUS (Athens)  |
| SHORE EXCURSION: | Mycenae and Epidaurus Theater |
|   |   |
| TOUR AT A GLANCE |   |
| Activity level | high |
| Duration | 4 to 4 1/2 hours depending on the traffic |
| You will visit | Acropolis |
| You will see | Temple of Olympian Zeus, Old Olympics Statdium, Parliament, University |
| Shopping | short time for souvenir shopping in the area close to the Acropolis |
TOUR OVERVIEW:
Leaving Athens in the morning, the drive will take you towards the south part of the city, to the coast.
Following the coastal road of the Saronic Gulf, will arrive at the Corinth Canal after one hour drive. A short stop will be made for photos of the spectacular canal, which was built, between 1883-1893 to connect the Peloponnese with Central Greece.
Through the plain of Argos the drive will continue to Mycenae, an acropolis set upon a small hilltop, that has given its name to a whole civilization (1400-1200 BC). Mycenae was the royal set of the ill-fated House of Atreus. It was from Mycenae, that Agamemnon, "King of men", went off as leader of the Achaean expedition to war against Troy. The Lion Gate, the Royal Palace, the shaft graves and the fortification walls, are some of the wonders that can be seen here thanks to the archaeological investigations. Schliemann was first to excavate Mycenae in 1876. He uncovered the famous grave circle of royal tombs and brought to light gold death-masks, jewelry, golden diadems and dress ornaments, which can be seen today in the Athens Archaeological Museum.
Half an hour drive through vineyards and olive groves will take you to Epidaurus, the sanctuary of Asklepios the god of medicine. On a hillside, within the sanctuary lies the Theater of Epidaurus, the most famous and well preserved of all ancient theaters in Greece. The acoustics here are so perfect that the slightest whisper or rustle of paper from the orchestra can be heard from any of its 14,000 seats. The theater is the most important building left on the site and undoubtedly the most beautiful of all theaters. Epidaurus and the whole feeling of the place is of health and freshness.
A traditional luncheon will be served in Mycenae.
Following the coastal road back to Athens, the arrival is scheduled late in the afternoon.
Important Notes:
This excursion will operate by coach and on foot.
Note that all minors (those under 18) must be accompanied by an adult on shore excursions.
This excursion involves uphill walking, with numerous steps to negotiate.
The journey time to Corinth Canal is approximately 1 hour, the drive from the Canal to Mycenae is 1 hour and Epidaurus to Athens 2 hours.
Guests are advised to wear comfortable shoes as the tour of the sites involves a substantial amount of walking.
Rest room facilities at the sites as well as at the restaurant.