DELPHI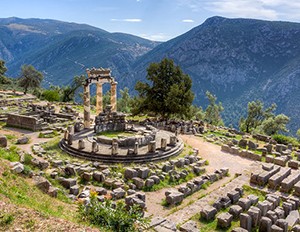 | | |
| --- | --- |
| PORT: | PIRAEUS (Athens)  |
| SHORE EXCURSION: | Delphi |
|   |   |
| TOUR AT A GLANCE |   |
| Activity level | high |
| Duration | 9 to 9 1/2 hours depending on the traffic |
| You will visit | Delphi site and museum |
| You will see | Arachova village, Springs of Castalia |
| Shopping | short time for souvenir shopping in Delphi |
| Meal | lunch at a traditional restaurant |
TOUR OVERVIEW:
Embark on a journey of discovery to Delphi, considered by the ancient Greeks to be the physical and spiritual centre of the earth. During the drive, enjoy breathtaking mountain landscapes and gaze beyond to the blue waters of the Gulf of Corinth, a truly spectacular sight. 
Nothing can prepare any visitor for the impressive natural surroundings of Delphi. Nevertheless, it was not the grandeur of scenery, but the felt presence of the numinous which caused Delphi to become the shrine par excellence of Greece.
Spread like an amphitheater, covering the semicircle formed by the Phaedriades, two huge lumps of rocks dominating the valley, Delphi stands as if isolated from the rest of the world. It was here where the God Apollo was worshipped. For the ancient Greeks the area was the center of the universe.
En route you'll pass the Springs of Castalia. Its waters are said to provide eternal youth, and in ancient times visitors would have to purify themselves in the spring before entering the sanctuary. Perched majestically on the slopes of Mount Parnassus lies one of the most important archaeological sites in Greece. With your expert guide, you'll 'Walk the Sacred Way', and visit the Temple of Apollo, the Treasuries and the 4th century BC Theatre of Delphi. Fortunately, there are 5,000 seats in which to rest, admire the stunning setting and try out the splendid acoustics.
The Delphi Museum is considered one of the most important archaeological museums in Greece, and within it is an outstanding collection of classical and archaic pieces. One of the main highlights and best known Greek statues is the bronze Charioteer of Delphi. This 5th century BC treasure, was unearthed in 1896, after lying for more than 2,000 years under rubble from an earthquake. Astonishingly lifelike, he's heading into his victory lap, with the look of calm pride on his face, and his eyes, made of onyx, are still intact.
A traditional luncheon will be served, followed by some free time in the modern village of Delphi.
Important Notes:
This excursion will operate by coach and on foot.
Note that all minors (those under 18) must be accompanied by an adult on shore excursions.
This excursion involves uphill walking, with numerous steps to negotiate.
The journey time to Delphi, including a comfort stop is approximately 3 hours each way.
Guests are advised to carry a hat, sun block, non slippery comfortable shoes and plenty of water.
Rest room facilities at the site and the museum as well as at the restaurant.