WITHOUT WALKING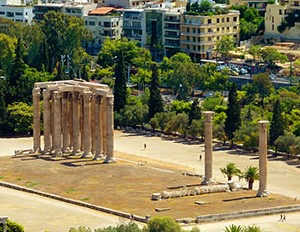 | | |
| --- | --- |
| PORT: | PIRAEUS (Athens)  |
| SHORE EXCURSION: | Athens Orientation Drive without walking |
|   |   |
| TOUR AT A GLANCE |   |
| Activity level | low |
| Duration | 3 hours depending on the traffic |
| You will see | Temple of Olympian Zeus, Old Olympics Statdium, Syntagma Square, Parliament, University |
TOUR OVERVIEW:
Leaving Piraeus, the main port of Greece, if you prefer to do the sightseeing tour from the comfort of a coach seat, you will have the opportunity to admire the beauties of Athens and Attica.
Our sightseeing will begin with a drive following the coastal road of the Saronic Gulf on to the Syngrou Avenue, the main road leading to Athens center and the Acropolis, where a short stop for photos will be provided. Continuing through Amalias Avenue the coach will drive to the Temple of Olympian Zeus, completed in the 2nd century AD by the Roman Emperor Hadrian, and then to the Panathenaic Stadium, the only stadium in the world made of marble, where the first modern Olympic Games took place in 1896. The next stop will be made at the Residence of the President, guarded by the "Evzones" soldiers dressed in traditional costumes, and on to the main square of Athens, Syntagma, where the Parliament is situated.
The bus will then continue down the Panepistimiou Avenue with the neo-classical buildings of the Academy, the University and the National Library.
Passing through the excellent anchorage of Marina Zea, one of Piraeus' most popular meeting places, you will arrive in Mikrolimano (small harbor) one of the most lively and picturesque spots in the whole area. The tour will end in Piraeus, which is only 10 minutes drive away, after a day that will have given you a general orientation idea of Athens and its wonderful suburbs.


Important Notes:
This excursion will operate entirely by coach.