ACROPOLIS MUSEUM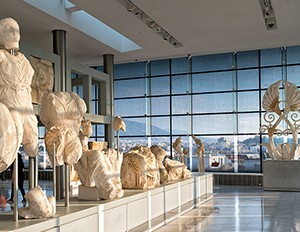 | | |
| --- | --- |
| PORT: | PIRAEUS (Athens)  |
| SHORE EXCURSION: | Athens with the Acropolis and the National Archaeological Museum |
|   |   |
| TOUR AT A GLANCE |   |
| Activity level | high |
| Duration | 5 to 5 1/2 hours depending on the traffic |
| You will visit | Acropolis and the Archaeological Museum |
| You will see | Temple of Olympian Zeus, Old Olympics Statdium, Parliament, University |
| Shopping | short time for souvenir shopping in the area close to the Acropolis and the museum |
TOUR OVERVIEW:
 Driving across the city you will be able to see the Temple of Olympian Zeus and the unique Panathenaic Stadium, all in marble, and the Residence of the President guarded by the colorful Greek soldiers dressed in traditional costumes, the "Evzones".
Passing through the heart of Athens (Syntagma Sq), where the Parliament and the Old Palace are, you will arrive at the sacred rock of the Acropolis. Acropolis, which means the highest part of a city, was inhabited from the 2nd millennium BC. Parthenon, the great temple of Athena, dominates the plateau and was built in the second half of the 5th century BC by the famous architects Iktinos and Kallikrates. The sculptures adorning the temple were mastered by Phidias. The Propylea, the Temple of Athena Nike, commonly known as the temple of the Wingless Victory, and Erechtheion are also worth special attention for their marvelous architecture.
Soon after the conclusion of the visit of the Acropolis you will have a short walk to New Museum of the Acropolis located at the sloped of the sacred rock.
After crossing the ground floor lobby towards the turn styles of the Museum, the first collection lies before the visitor. An ascending, wide glass-floored gallery houses finds from the slopes of the Acropolis. The occasionally transparent floor provides a view of the archaeological excavation, while its upward slope alludes to the ascent to the Acropolis. The Gallery of the Slopes of the Acropolis houses finds from the sanctuaries that were founded on the slopes of the Acropolis, as well as objects that Athenians used in everyday life from all historic periods.
For the first time ever, it is possible to view the coffered ceiling of the Propylaia and the sculptures from the parapet of the temple of Athena Nike, and finally, the Caryatids – or Korai of the Erechtheion at close proximity on the balcony overlooking the Gallery of the Slopes of the Acropolis. The main monuments that constitute the Classical Acropolis are the Propylaia, the temple of Athena Nike and the Erechtheion

Important Notes:
This excursion will operate by coach and on foot.
Note that all minors (those under 18) must be accompanied by an adult on shore excursions.
Please be advised that some of the walking at the Acropolis is very slippery and flat comfortable shoes are recommended.
Visit to the Acropolis involves climbing approximately 80 steep steps and walking along uneven pathways – comfortable non-slip shoes are recommended.
The Acropolis is currently undergoing extensive restoration and parts are covered in scaffolding.
Rest room facilities at the site and the museum.