ACROPOLIS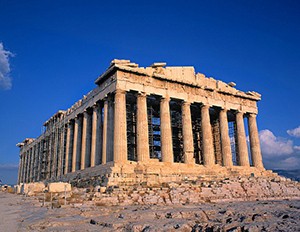 | | |
| --- | --- |
| PORT: | PIRAEUS (Athens)  |
| SHORE EXCURSION: |   |
|   |   |
| TOUR AT A GLANCE |   |
| Activity level | high |
| Duration | 4 to 4 1/2 hours depending on the traffic |
| You will visit | Acropolis |
| You will see | Temple of Olympian Zeus, Old Olympics Statdium, Parliament, University |
| Shopping | short time for souvenir shopping in the area close to the Acropolis |
TOUR OVERVIEW:
An informative, narrated drive will take you from Piraeus to Athens, past a wealth of important sites, including Temple of Olympian Zeus, Constitution Square, and Tomb of the Unknown Warrior, Presidential Palace, and the University Library. 
Stop to admire the Old Olympic Stadium, built for the first modern Olympic games. This stadium was also used for the Marathon finish during the 2004 games.
For 25 centuries the panorama of the fascinating city of Athens has been dominated by the rock of the Acropolis.
Acropolis, which means the highest part of a city, was inhabited from the 2nd millennium BC
Walk up to the entrance of the Acropolis, through the Propylea, which extends 150 feet across the western front of the Acropolis. Adjoining the entrance is the Temple of Athena Nike or Wingless Victory. Beyond the Propylea, on the highest part of the hill, is the Acropolis' crowning glory, the Parthenon. Built between 447 and 432 BC by the famous architects Iktinos and Kallikrates with the sculptures adorning the temple mastered by Phidias. The, it was dedicated to the Virgin Athena, the patron goddess of the city.
To the north of the Parthenon is the Erechtheion, a temple honoring Athena and Poseidon, God of the sea. The Porch of the Caryatids, with sculptures of lovely maidens, is one of the Acropolis' most graceful structures.
This is the conclusion of a trip offering the highlights of Athens and an excellent introduction for the first time visitors to Greece.

Important Notes:
This excursion will operate by coach and on foot.
Note that all minors (those under 18) must be accompanied by an adult on shore excursions.
Please be advised that some of the walking at the Acropolis is very slippery and flat comfortable shoes are recommended.
Visit to the Acropolis involves climbing approximately 80 steep steps and walking along uneven pathways – comfortable non-slip shoes are recommended.
The Acropolis is currently undergoing extensive restoration and parts are covered in scaffolding.
Rest room facilities at the site.